Sterishoe Ultraviolet Shoe Sanitizer
Buy Or Gift

Sterishoe - What does it do and Why should one use it?
Sterishoe is clinically proven to Kill up to 99.9 % Of Foot Infection Causing Micororganisms.Say Good Bye To Athlete's foot, Shoe Odour, and Toenail fungus. Just like we wash our clothes and socks, we should clean the inside of our shoes. The human foot has about 250,000 sweat glands and considering that human feet sweat up to half a litre a day, it's good hygiene to clean the inside of your shoes. Especially people who are diabetic need to be very proactive about their foot health.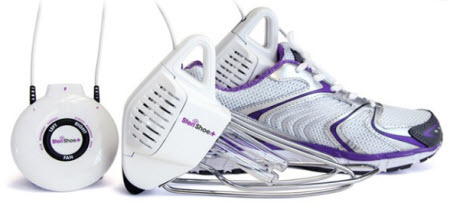 How does Sterishoe work?
The patented SteriShoe ® sanitizer uses germicidal ultraviolet (UVC) light. The UVC light emitted by SteriShoe® is clinically proven to destroy microorganisms which will sanitize the inside of your shoes by killing 99.9% of the microbes that cause toenail fungus, athlete's foot and offensive shoe odour. The UVC light method of killing bacteria/microorganisms has been used for decades in a variety of settings including hospitals and water treatment systems.
When to use Sterishoe?
We recommend Sterishoe should be used by everyone, especially people with diabetes, nail fungus (onychomycosis), athlete's foot (tinea pedis), and bad shoe odor. The SteriShoe® shoe sanitizer is proven to destroy the fungi that cause nail fungus and athlete's foot. Shoe odor is a byproduct from certain bacteria. The SteriShoe® shoe sanitizer is designed to destroy these bacteria inside shoes.
How to get a Sterishoe?
You can come and pick one up from our clinic or order online from our secure online shop.
SteriShoe on TV