Selecting The Correct Footwear
The information below is a guide to selecting the right shoe for your child.
Toes
The front top cap part of a shoe should have sufficient width and height to provide room for the toes. A gap of approximately 5mm between the big toe and the tip of the shoe will allow for growth as well as movement of the foot while walking and running.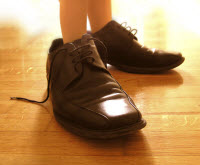 Open-Toe vs Closed-Toe
While the child is growing , closed-toe shoes will provide protection and help minimize injuries.
Body of the shoe
Ideally, the body of the shoe should be made of natural materail like leather.
Inside the shoe
Look out for protruding seams or stiching. This may cause irritation.
Heel
The height of the heel should not be no more than 4cm. It should be lower for younger children. Children run and play. High heel height could make the child relatively more prone to ankle sprains. The heel should be made of good shock absorbing material and to offer more stability should have a broad base.
Fitting and Support
The shoe should fit comfortably around the heel with minimal or no gap. If the shoe is loose around the heel, the foot may slide forward and back. This could restrict toe movement and/or cause blisters. The inside of the shoe around the heel should firmly but comfortably support the foot. Use a professional foot fitter to fit your child's footwear.
Inner Sole
Choose a shoe where the arch of the foot is well supported. This is particularly important as children jump and play.
Outer Sole
Avoid shoes with hard outer soles. Soft soles are good as they provide flexibility while walking and running.
Laces/Straps/Velcro
We recommend using shoes with laces or velcro which provide firm adjustable support. Avoid slip-ons - with wear and tear, the body of the shoe could loosen up thereby compromising on firm adjustable support.
Avoid
Avoid the use of plimsolls (canvas shoe with a rubber sole) as all day everyday footwear.
Handing down shoes
The body of the shoe molds itself around the structure of the foot and plays an important part in providing support. With usage, the body of the shoe will conform to the foot structure of the primary owner and may not fit the secondary owner well. This could result in reduced foot support and may also cause blisters.