CAM Walker aka Moon Boot Hire Vs Buying
CAM Walker Hire Vs Buying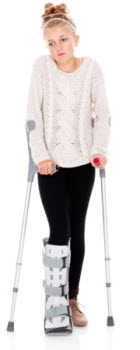 CAM Walker is a device that is used to provide protection,support and assist in mobility during recovery from a foot and ankle related injury.
There a few things to look out for before deciding to Hire or Buy,
Structure: Ensure that the frame of the Moon Boot is robust. Look out for broken straps.
Inner Lining: There are chances that you could be wearing a Moon Boot for several hours a day for a few days at least. Ensure that a new inner lining is being supplied. Hygiene is important.
Wear & Tear: Avoid wearing a Moon Boot with a worn out sole as it may induce unwanted pressure to the injured area. This could affect the recovery process.
If you have hired a Moon Boot you will have to return it. Consider the time it will take to return it.
With the costs of Moon Boots being so low, you may be better off buying a Moon Boot rather using a second hand Moon Boot. It is difficult to find out how many people have worn it before.
The best investement is an investment in your self.